A Leadership Message from Kim Cleveland, NOBC Board Chair and Laurie Benson, NOBC Executive Director
On January 19, 2021, NOBC achieved our key strategy as envisioned by our founders, 10,000 board seats filled by nurses!  This is a proud collective accomplishment, made possible by nurses serving in communities across our nation.  Thank you for your support, hard work, and encouragement over the years, we could not have achieved this historic milestone without you!  This gives us the opportunity to leverage this key milestone to create even more new board opportunities for nurses to serve.
NOBC is now able to  leverage our momentum to make an even greater impact. With over 24,000 individual nurses registered in our database, we now turn our attention to providing new strategic and diverse board opportunities, helping each nurse prepare and pursue board opportunities that align with their unique skills, experience, qualifications, and passion, and measuring the individual and collective impact of nurses serving on boards.
Planning for our future:
In 2021, the NOBC Board of Directors conducted several strategic planning discussions, in alignment with the findings of the Future of Nursing 2020-2030 Report: Charting a Path to Achieve Equity.  Building on the vision of our founders, we continue to model our foundational guiding principles of collaboration with diverse national nursing association members, healthcare and business strategic partners, sponsors, and state contacts, who share our commitment to improve health for all.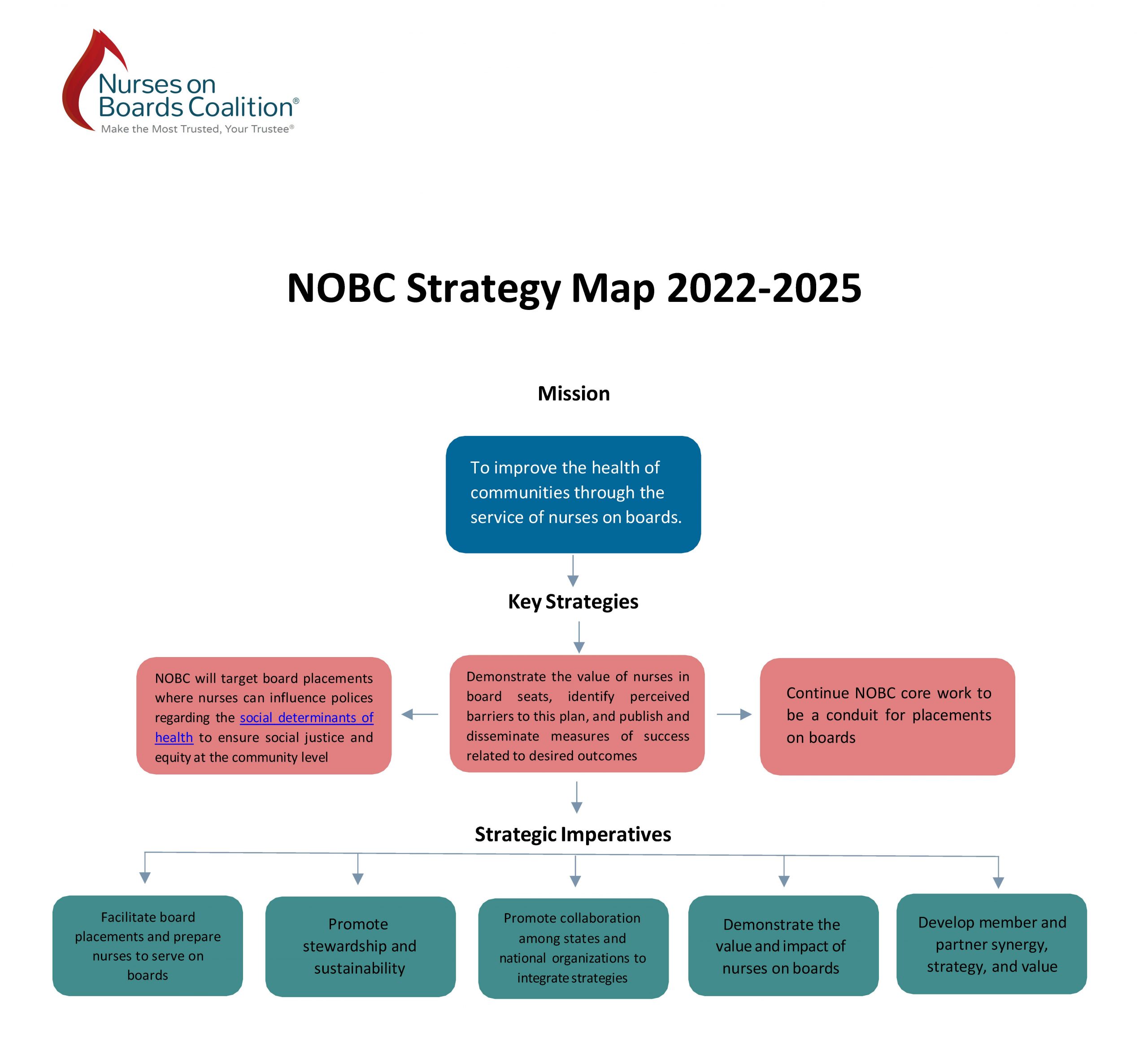 Please join us in making a significant and sustainable impact!   Don't wait for opportunities to come to you, consider where you can insert yourself right now to raise your leadership voice in new ways to improve health in the communities where you live and work.
Together, we will lead the way to a brighter future through our unwavering leadership in service to others.  Your active engagement is our motivation and our inspiration.  With your support, NOBC boldly faces the future with high hopes, confidence, and grace, always mindful of our founders' vision,  the importance of elevating others along the way, in fulfillment of our mission to improve health through the service of nurses on boards. 
The world needs us now more than ever.  This is our time, thanks for joining us on this special journey.
In gratitude,    
Kimberly Cleveland, JD, MSN, RN, C-MBC                                                                                                                                                                                           
NOBC Board Chair