Our Story
The Nurses on Boards Coalition (NOBC) represents national nursing and other organizations working to build healthier communities in America by increasing nurses' presence on corporate, health-related, and other boards, panels, and commissions. The coalition's goal is to help ensure that nurses are at the table filling at least 10,000 board seats by 2020, as well as raise awareness that all boards would benefit from the unique perspective of nurses to achieve the goals of improved health, and efficient and effective health care systems at the local, state, and national levels.
The Nurses on Boards Coalition first convened in 2014, and later that year publicly announced its partnership and goal to help ensure that at least 10,000 board seats are filled by nurses in 2020. NOBC was created in response to the landmark 2010 Institute of Medicine (IOM) report, The Future of Nursing: Leading Change, Advancing Health, which recommended increasing the number of nurse leaders in pivotal decision-making roles on boards and commissions that work to improve the health of everyone in America. The Campaign for Action, an initiative of AARP Foundation, AARP, and the Robert Wood Johnson Foundation initially brought the groups together as part of their collaborative effort to implement the recommendations of the IOM report through the Future of Nursing: Campaign for Action.
Nurses represent the largest segment of the healthcare workforce, are considered the most trustworthy of all professions1 and play a huge role on the frontlines of care in our schools, hospitals, community health centers, long-term care facilities, and other places. Their perspective and influence must be felt more at decision-making tables.
The Coalition's guiding principle is that building healthier communities in America requires the involvement of more nurses on corporate, health-related, and other boards, panels, and commissions.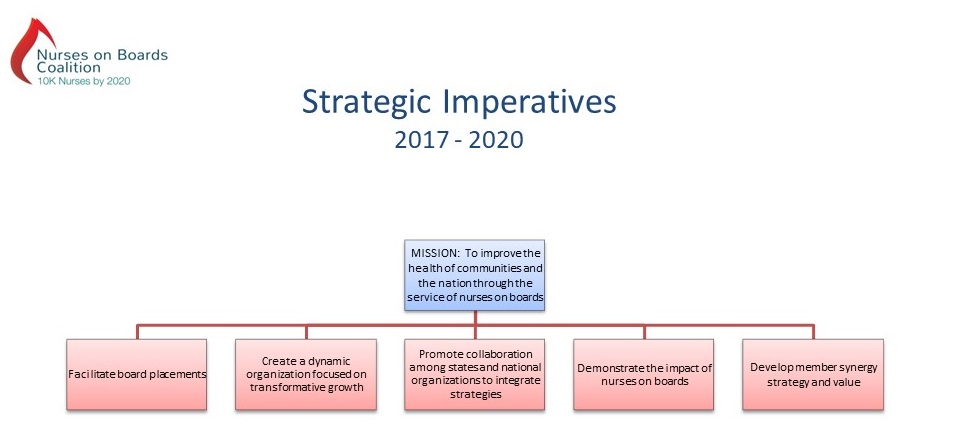 A detailed Infographic outlines our achievements through December 31, 2018.
Printable Nurses on Boards Coalition Infosheet.